A controlled, low-risk learning environment
Praxis provides realistic simulations of high-pressure events. Using audio, video and digital technologies, participants apply relevant policies, procedures, standards, and past experiences to manage critical incidents.

Developing and delivering Praxis exercises is simple, intuitive, flexible and fast. Organizations can easily design, build, adapt and deliver relevant exercises that test team knowledge and responsiveness, without constraining their actions. Each decision determines what unfolds next – emulating team consequences in unpredictable, real-life situations.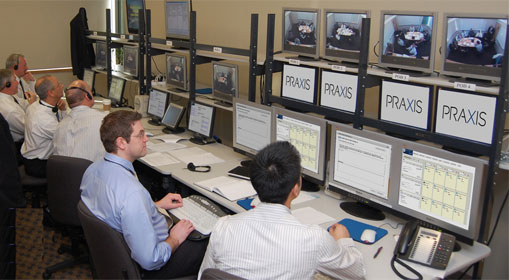 Realistic training simulations for every industry
Praxis was created through research and development by the Justice Institute of British Columbia (JIBC) – a leading North American public safety educator that provides dynamic justice and public safety education through its exceptional applied education, training and research.

Originally developed for the public safety sector, Praxis has evolved into a highly-effective, experiential e-learning solution appropriate for virtually any industry, including health care, financial services, geosciences, property management, government to name a few.
Interactive and cost-effective education
Groups can interact with each other throughout the simulation, and with subject matter experts who monitor and control the experience through chat rooms and video conferencing. All activities, decisions and rationales are captured and saved for post-simulation debriefing sessions – allowing participants to reflect on the consequences of their actions. Praxis is cloud-based, so it can be delivered to any location with a high-speed Internet connection.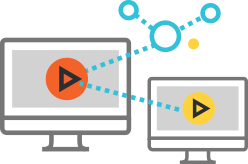 Enhance team preparedness and capacity

Praxis simulations deliver a realistic portrayal of practically any event in a safe, risk-free environment. Team members learn how to collectively analyze incident circumstances, interact and collaborate with each other to plan actions, and make mission-critical decisions without fear of consequence.

The iterative process of experience, reflect, think, act allows participants to assimilate and distill their reflections into enduring concepts. The immersive nature of the Praxis learning environment brings incidents to life for individuals, ensuring they quickly acquire critical assessment, problem solving and decision-making skills. Ultimately, Praxis instills the lasting knowledge and confidence teams need to analyze and act when real crises erupt.

Improve knowledge retention

Participants "learn by doing" and see the immediate results of applying their skills. Thinking and reflecting further enriches the experience, and as teams learn and collaborate, they take greater ownership for the outcome of their decisions.

Praxis captures participants' questions and decisions in a time-stamped database. During the debriefing phase, individuals can further reflect on what happened and the individual roles they played. Learning from mistakes in a risk-free environment gives participants the freedom to contemplate their thoughts, emotions, actions and results – embedding knowledge deep in their memories.

Save time, money and resources

As a cloud-based solution, Praxis can be delivered to any Internet-enabled location – eliminating travel costs and time delays.

Praxis training simulations can be produced with customized materials or resources readily available online (images, videos and animations). Praxis is also highly scalable, allowing multiple subject matter experts to create more complex simulations, as required.
Book a Demonstration
We would be pleased to show you Praxis
in action with a free, no-obligation demonstration.